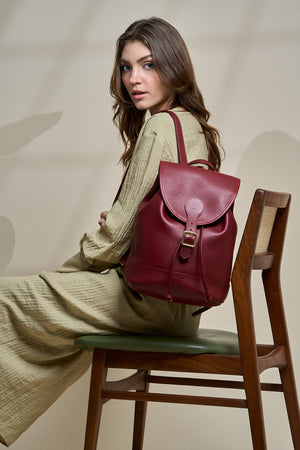 Buy it once,
love it forever.
If your Lund Leather bag breaks or wears out, we'll replace it, guaranteed.

Lund Leather bags are made to stand the test of time,
using only the finest leathers and craftsmanship.
LONGEVITY
QUALITY
INTEGRITY
HOW IT WORKS
If your bag ever fails, breaks, or wears out - let us know. 
We'll replace it free of charge.
Email hello@lundleather.com with the following:
1. The original order number (or your full name and email so we can look your order up)
2. A photo showing where your product is worn out or broken
3. Your current 'Ship To' address
You'll receive a confirmation email, and your new bag will be shipped approximately 2-3 weeks after we receive your replacement request. If the original bag is no longer in stock, we'll send you the most similar style/color to replace it. Lund Leather will cover all shipping charges.
WHY FAST FASHION ISN'T WORTH IT
Remember buying last season's trendy bag?
It was cute, it was inexpensive, and it made you happy. But after just a few months the strap snapped, the seam split or the buckle broke. Now you've lost your favorite bag, your time and your money. And to top it all off, now you have to buy another bag. That did not make you happy. 
Let's Crunch The Numbers…
1 x $60 mall store tote = life expectancy of 2 years x 30 years = $900
1 x $299 Lund Leather Tote = life expectancy of …well, forever x 50 years = $299

Savings = $601
(that's a lot of ice cream money)
Longevity, quality, and integrity come out ahead in every equation.
You deserve stuff that lasts, and we build  stuff that lasts.
*Please note: Lifetime guarantee applies to bags only. Does not cover shoes, wallets, belts, keychains, or any other Lund Leather non-bag item.
Our Lifetime Guarantee covers any quality issues with materials, workmanship, and regular use.
Here's the snag. Much as we'd love to, we cannot replace or repair bags that are damaged or not properly cared for. (Please take care of your leather, and it will take care of you right back.) But we'll always try to get your product back in working condition through a suggested repair or care advice.